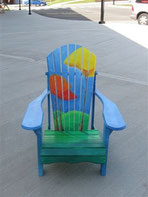 Hi all!
I haven't written in a while, because I've been taking a break from painting to work on my house and building this new website of course.  We've been doing a little virtual and real world renovating, and though a break from painting always brings me back rejuvenated and ready for more, its not that interesting to anyone else!
What may be interesting is that I was asked to participate in the Nan Go Grannies Chair Affair Auction.  The auction has a bit of a twist...the art is all painted on chairs!  So here is my entry with one of my landscapes with the swirling skies painted on it.
If you are in the Nanaimo, BC (Vancouver Island, Canada) area and feel like popping by for some fun, frolicing and interesting art, the auction is on at 7:30, May 1st/2010 at the Cavalotti Lodge. For more info you can check out their website at www.nangogrannies.org
It should be a good time... and you may just find the perfect unique chair that was painted just for you!
Well gotta run.  I think the hammer is calling my name!
Richard Hoedl
Art Guy / Artist / House Renovator